The British Broadcasting Corporation (BBC) was founded in 1922 and is a public service broadcaster funded by the licence fee paid by UK households. Their services include 10 national TV channels plus regional programming, 10 national radio stations, 40 local radio stations and a website. The BBC's World Service broadcasts to the world on radio, on TV and online, providing news and information in 27 languages and world service English language. They also have a commercial arm, BBC Worldwide, the profits from which go back to the BBC to be invested into new programming and services.[1]
BBC Cymru Wales
Edit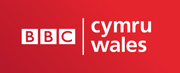 BBC Cymru Wales (an amalgamation of the English: BBC Wales and the Welsh: BBC Cymru) is the division of the BBC for Wales.
BBC Cymru Wales produces a wide range of programming and content in English and in Welsh for television, radio and online audiences in Wales and on network. Its Roath Lock studios are home to some of the BBC's most popular dramas.[2]
Atlantis is executive produced for BBC Cymru Wales by Bethan Jones.[3]
BBC America
Edit

BBC America is an American television network that launched on March 29, 1998, broadcasting comedy, drama and lifestyle programs from BBC Television and other British television broadcasters like ITV and Channel 4. It is owned and operated by BBC Worldwide, and is available on both cable and satellite. Unlike the BBC's wholly owned domestic channels which are principally funded by a television licence fee, BBC America is a commercial station and as such carries advertising messages.
On the 22nd July, 2013 BBC America announced that the channel is co-producing Atlantis. The show will be broadcast on BBC America in the autumn of 2013 as part of "Supernatural Saturday."[4]
External Links
Edit
References
Edit
Community content is available under
CC-BY-SA
unless otherwise noted.