The Labyrinth was a mass of caves where a terrible creature known as the Minotaur was found.
Every year for twenty years, seven tributes were sent there as a sacrifice to the creature and so keep the city safe.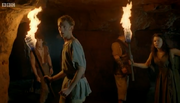 People had entered the labyrinth to try and kill the Minotaur, but no one succeeded until Jason entered the Labyrinth as part of that years tributes. (The Earth Bull)
Greek Mythology
[
]
In Greek mythology, the Labyrinth was situated in Crete. It was built by Daedalus at the request of King Minos to imprison his wife's son, the Minotaur. Jason was only able to find his way out of the Labyrinth by using the Skein of Thread  that Ariadne gave him to help in the Labyrinth.